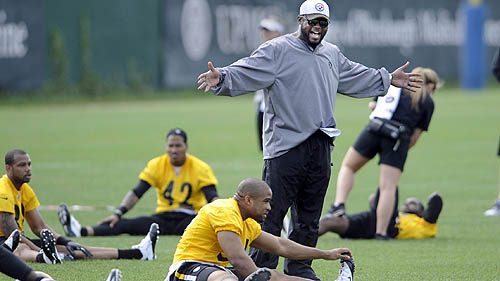 Today is the day when all the fun begins.  The Steelers will arrive in Latrobe today at St. Vincent College for the start of Training Camp.  It is a day that most of us have waited for since the team lost to Denver in the playoffs.  It left a bad taste in the mouth of players and fans alike.
The Steelers come into training camp with many new faces.  Gone are Hines Ward, James Farrior and Aaron Smith.  New leadership will have to be built during this training camp.  Young guys will emerge as starters for the first time.  First round pick David DeCastro could be one of those new faces.
The only person left to sign is Mike Wallace.  With all the reports floating around of his signing it is inevitable that day is coming soon.  The rest of the team is in tact and ready to go.  There are a few injuries to overcome before the start of the season but this team has done that before.
Now it is time for the team to start its journey.  The fans will line the hills of St. Vincent College and watch their beloved team take the field for a new season.  It is that time of year again.  It is football season and it couldn't have gotten here fast enough.
GO STEELERS!