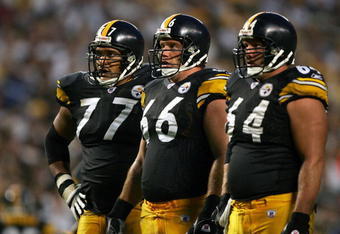 What used to be one the Steelers biggest strengths had become the teams biggest weakness over the past 8 seasons.  The Steelers won their fifth Super Bowl with what was one of the top tier offensive lines in football.  They had a Hall of Famer in Alan Faneca.  Two studs at their position in Jeff Hartings and Marvel Smith.  An up and comer in Max Starks and Kendall Simmons who was still playing good ball at the time.
After that Super Bowl the line started to go the other direction.  With in a few seasons it was all new.  Hartings retired.  Faneca was later allowed to leave and pursue free agency where he signed with the Jets.  Simmons and Smith were slowed down by injury.  The only player left moving forward was Starks.  He was moved to the left side to protect Big Ben's blindside.
The line was not rebuilt after it was dismantled.  The Steelers tried to get by with late round picks.  Guys they got from the bargain bin and undrafted free agents.  The team put no emphasis on making sure that the line was solid or that Roethlisberger was protected.  Ben's style of play lead the Steelers to believe that they could do it with a weak line.  That was partially true.  The team went to two more Super Bowls and won one of those games.
Roethlisberger had taken many shots though and the front office decided it was time to make some changes.  The first change the team made was bringing in Sean Kugler to coach the offensive line.  He took the line from day one with injuries and little talent and got the best he could out of them.  The line has improved every year under Kugler and will only get better with the talent that is being added.
Over the past 3 seasons the team has gone all in on the offensive line.  They drafted Maurkice Pouncey 3 years ago in the first round and he has become one of the best offensive linemen in the game.  A year after they took Pouncey's former teammate Marcus Gilbert and he looks to be in the makings of a solid right tackle.  The line was starting to reform.
The Steelers sealed the deal this offseason when they went offensive line back to back in the first two rounds.  The Steelers took David DeCastro in the first round as he fell into their laps.  DeCastro was compared to former Steeler Alan Faneca and Steve Hutchinson.  He was a top ten rated pick but fell to the Steelers due to his position.  Then they came back around in the next round and snagged Mike Adams.  Adams dropped due to some off field issues but the Steelers took the chance in the second round.  Adams can be the teams left tackle for years to come.
The line was starting to turn around.  Going into this season the Steelers are set at Center.  Maurkice Pouncey is that guy and he is going to be that guy for a long time.  The other four positions though are open to whoever wants them.  Marcus Gilbert should be the right tackle but if Left Tackle is not secure he could switch sides.  That could leave a hole for someone else to fill.  Gilbert will be a starter either way.
That leaves 5 guys for three positions.  Mike Adams, Willie Colon, Ramon Foster, David DeCastro and Doug Legurksy will battle it out for the spots that remain.  This will bring out the best in everyone at camp.  Competition is the best way to find out what you have.  So here is how I see it panning out during camp.
Left Tackle:
Though I do not like the idea of giving away a position this is Mike Adams job to lose.  The team tried out Jonathan Scott last year and that was a mistake.  They have not resigned Max Starks who is recovering from knee surgery.  Adams is in the drivers seat and should be the starting left tackle for the Steelers.
If Adams is unable to play the position Gilbert could take over.  That would leave the right tackle position open.  That could be filled by Adams but would most likely be filled by Ramon Foster.  Foster can play Left and Right Guard along with Right Tackle.  It could also be Jonathan Scott but lets hope not.
Mike Adams should and I believe will be the Steelers left Tackle next season and beyond.  If he can keep his head on straight the Steelers may have gotten a gift.  Left Tackles do not drop this far especially when they are rated higher then those taken before them.  It may be luck but it is still awesome.
Right Guard:
This battle will be between Doug Legursky, Ramon Foster and David DeCastro.  Foster and Legursky traded off at the position last year.  With injuries to Kemo, Legursky was forced to switch to the left side as well.  He played as well as he could and is a great stop gap but Legs is not a starter in this league.  He is the best back up that you can find but he is not consistent enough to be this teams right guard of the future.  He should make the team and he should be the number one back up but this is not his position this season.
Ramon Foster will likely get the first shot at the job as it was his most of last year.  Foster has the ability to be the starter for this team.  His play is deserving of a look at the job.  He played well two years ago but took a step back this season.  He was hampered by some injuries but he still did his job.
That being said I feel this is DeCastro's job.  He was drafted in the first round.  He has been compared to future Hall of Famers.  He is considered to be the best guard prospect in the last 10 years.  He was one of if not the most NFL ready player in the draft.  This kid is a football player.  He looks like a football player and he will be on the field week one.  you dont draft a kid like this to put him on the bench.  Number 66 will be beside Pouncey from game one one.
Left Guard:
Now this is where the battle lies.  We know Legursky is out as I do not see him as the starter for a long period of time.  That leaves Willie Colon and Ramon Foster to battle it out for the final spot.  This should get heated during camp.  It could be one of the closest battles in July.  The winner will truly have to win the job.
I already spoke on Foster so here is the scoop on Colon.  He is the starter right now but Foster is nipping at his heels.  Colon is switching positions and has to learn new footwork and line calls for his spot.  Colon has never been the fastest learner and has a bit of an issue mentally on the field.  He was a false start machine at Right Tackle.  That could change moving him inside.
I always believed Colon was a guard and could be a great one.  He is now getting that shot.  He will have to play his butt off to keep the position though.  Foster will not give in and if Colon looks off Foster will step in.  He already knows the position and can play it right now.  Colon has a lot of work to do.  This is his spot but he will have to work to keep it.
Starting Offensive Line:
LT- Mike Adams

LG- Willie Colon

C- Maurkice Pouncey

RG- David DeCastro

RT- Marcus Gilbert