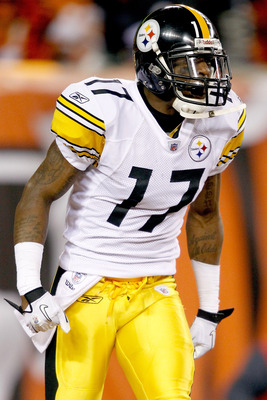 Mike Wallace is not expected to sign his RFA tender.  He plans on skipping all off season workouts and will hold out without a long term deal. Wallace wants a Larry Fitzgerald type deal and that is not happening in Pittsburgh.
It is no surprise that this came out this week.  The Steelers phones are probably ringing right now with questions about Wallace's availability.  Teams know the Steelers will not pay Wallace that kind of money and they may want to jump on Wallace.
The team I think the Steelers should be on the phone with is the St. Louis Rams.  The Rams are sitting at the number 6 pick right now and are looking to get a receiver.  Now there is no way the Rams will trade away that pick in the first round but they do have two high picks in the second round.
The Rams have their own pick of 33 which is the first pick in the second round.  They also have the Redskins second round pick which is number 39.  The Steelers need to work on the Rams to try and get one if not both of these picks.
The Steelers could try to be greedy and offer up Wallace for both of these picks.  I doubt that will work.  The Rams are working towards building a good franchise and giving away two picks in the top 40 for Wallace would not work for them.  What could work though is giving them Wallace and pick 56 which is the Steelers second round pick for pick 33 and 39.  Wallace for pick 39 and swap second round picks.
The Rams are rumored to want Trent Richardson in the first round.  This is draft season and everything is a lie so who really knows but if they take Richardson they will not find a high quality receiver like Wallace at pick 33.   If they make the trade that would give them Richardson and Wallace plus they still get a second round pick.
The trade would work for both teams.  The Rams would get a weapon for Sam Bradford to throw to.  The Steelers would get to work on rebuilding an aging team with more quality players who get paid a lot less than what Wallace wants.  I would jump at this trade in a heartbeat.
The Steelers have already brought back Jerricho Cotchery.  He may not be able to replace Wallace but he is no slouch.  The team would have three good wide receivers still on the roster, Cotchery, Emmanuel Sanders and Antonio Brown.  They could draft a guy like Stephen Hill with one of those picks to groom into being Mike Wallace.  Where as the Rams do not have that luxury.  They need someone to help Bradford grow now not have Bradford grow a receiver.  Bradford needs a ready to go weapon.
It is basically two choices for the Steelers.  They can keep Wallace this year and lose him next season because he will still want the same money.  They will only get at most a 3rd round compensation pick in that case.  Or they can trade him now for good value and improve this team for the future instead of hoping Wallace helps bring a Super Bowl this season and then sneaks out the door before the next.
To me it is a no brainer.  It could bring about an interesting 2 weeks of rumors leading up to the draft though.