NFL Network reported last night that while they may not be able to do the contract now, Woodley remains a "number 1 priority".  He also stated the same thoughts that I put out there the other day.  That even though there is no deal now, there is no way that LaMarr Woodley will not be a Steeler in 2011 even if it comes down to designating him as the franchise player.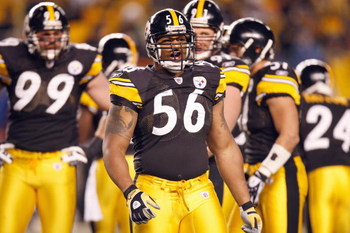 Most think there is already a gentleman's agreement between Woodley and the organization.  He plays out this season at his current deal and when it is up he will be paid at the rate he should be, a little wink and a handshake behind closed doors.  The only thing that could change this would be if no CBA (Collective Bargaining Agreement) is in place for the 2011 season.  If that is the case, then there will be no NFL Season and no one will be getting paid.
This could also be why he has not made a peep about his contract situation unless asked.  When asked, he always lets you know he will be there for training camp and will not miss a day.  He does not want to cheat the team or miss being out there getting better with his teammates.
He is a building block for this organization.  Woodley is only 25 and still learning his position.  He has only played linebacker for 3 seasons after switching from defensive end.  He has not even hit his prime yet.  There is too much potential to let him even think about getting away from our team.
Woodley's stats speak for themselves.  He is one of only 3 players to have 11 or more sacks in the last 2 seasons.  The other 2 are Jared Allen and DeMarcus Ware.  You would be crazy to let a player like that leave your organization.  Ask the Chiefs how much they wish they still had Jared Allen.
Hopefully, everyone will let this rest now.  Leave the man alone and let him play the game.